000145 Rymer Foods Announces 1999 Final Year Results
January 30, 2000

Chicago - Rymer Foods Inc. announced its results for the fiscal year ended October 30, 1999.

For the fiscal year ended October 30, 1999, the Company reported an income from continuing operations of $33,000 compared to a loss of $2.0 million or ($0.47) per share in 1998.

The Company increased sales by $8.7 million or 28.8% and gross profit by $2.4 million or 111.5% as compared to 1998 due to expansion of the customer base and increased operational efficiencies. Interest expense increased by $200,000 from 1998 due primarily to increased borrowings needed to accommodate Company growth. Management believes that continuing the Company's success will rely on continuing customer expansion, improving operational efficiencies and maintaining relationships with its lenders and suppliers.

Mr. P. Edward Schenk, Chief Executive Officer of Rymer, stated: "1999 has been a year full of challenges for the Company. We are committed to continue to transform the challenges we face into opportunities for improvement for the Company. We believe that the management team will strive to focus on driving the business to growth and performance."

Mr. Edward Hebert, President of Rymer had the following comment regarding the results for 1999, "The Company has come a long way in 1999. Increased sales, turned a modest profit and received a clean opinion from its outside auditors. This provides a solid base to continue to grow the Company, thereby increase shareholder value."

Rymer Foods is the holding company for Rymer Meat, a Chicago-based portion- control protein company which provides frozen, pre-seasoned meat, cooked products and tailored programs to national mid-scale family restaurant chains, retail and institutional foodservice providers. The Company prides itself on value added products and co-packing capabilities.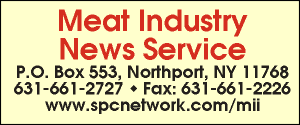 E-mail: sflanagan@sprintmail.com