Edition

Published By
Stevens Publishing Company
P.O. Box 221
Brightwaters, NY 11768
631-661-2727
Fax: 631-883-7360

New York State's Top Restaurateurs Use this Guide on a Daily Basis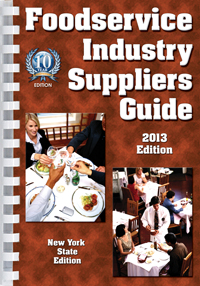 Foodservice Industry Suppliers Guide is distributed to top foodservice executives throughout New York State. These professionals operate more than 8,000 of the New York's most successful food service establishments.
This highly respected directory is published by Stevens Publishing Company which is well known for directories serving the meat, poultry, restaurant, architectural and financial planning industries.
For an entire year, readers of this directory will take advantage of the most comprehensive listings of industry suppliers in the state. Readers of Foodservice Industry Suppliers Guide are the region's most successful and forward-thinking minds in the business.
---
MAIN MENU:
---
Foodservice Industry Suppliers Guide
Stevens Publishing Company
P.O. Box 221, Brightwaters, NY 11718
631-661-2727
Fax: 631-883-7360
email: spcnetwork@earthlink.net